OVERVIEW
THEATRE PRODUCTION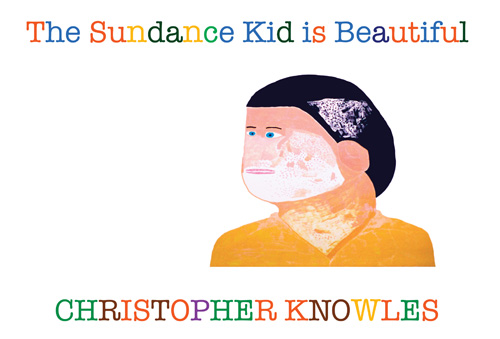 The Sundance Kid is Beautiful presents the work of Christopher Knowles, the multitalented poet, linguist, performer, actor and visual artist in a staged environment that incorporates many of his diverse approaches.
The sixty-minute solo work features Knowles performing multiple actions in different time and scale registers in concert with more than a dozen short texts, including The Sundance Kid is Beautiful, selections from his libretto for Wilson and Phillip Glass's landmark opera Einstein on the Beach, and many others.
The Sundance Kid is Beautiful is conceived as a theatrical or performative presentation adaptable to a variety of spatial configurations, including proscenium stages, black box theaters, thrust stages, and outdoor and gallery spaces. A newspaper landscape containing Knowles's alarm clock collection, recent sculptures, and a finely tuned lighting and sound environment evokes themes surrounding the measurement of time, communication, sign systems, and popular culture. Within this scenographic landscape, Knowles creates moments of dramatic stillness and motion that explore specific aspects of his unique world.
The Sundance Kid is Beautiful draws the audience into Knowles's whimsical, witty, and dream-like world, thereby allowing viewers to engage with his compelling practice on its own mesmerizing terms.
"Christopher Knowles is an American original–sui generis. His genius has everything to do with his ability to make one re-think language through poetic configurations that are haunting, vivid, and real. He is an artist of the first magnitude."
— Hilton Als, New Yorker Magazine
"The Sundance Kid is Beautiful is perhaps the most fascinating, unique, and important performance we have ever presented at the Martin E. Segal Theatre Center. The high level of professionalism and good judgment exhibited by the production team throughout the process was extraordinary, and the sense of complete commitment to the work was truly inspiring to witness."
— Frank Hentschker, Director of Programs at Martin E. Segal Theatre Center, The Graduate Center, CUNY
"Radiant…"
— Robert Wilson
"I was deeply moved when I saw Christopher Knowles on stage. He stands out as an actor. His strong and poetic presence, his inner world so close to ours, childish, full of humour and melancholy…"
— Isabelle Huppert, actress