OVERVIEW
CREATIVE DIRECTION, PRODUCTION, INSTALLATION, EXHIBITION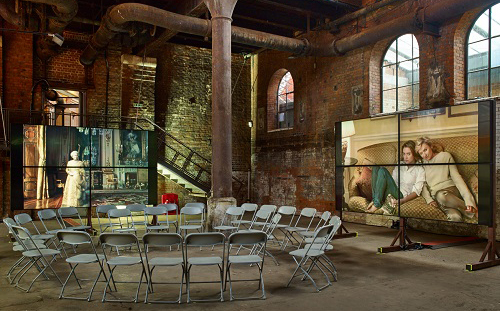 ANNIE LEIBOVITZ: WOMEN NEW PORTRAITS
Ten global cities in twelve months
Commissioned by UBS
THE EXHIBITION
WOMEN: NEW PORTRAITS is a continuation of Leibovitz's most enduring and well known photography series, 'WOMEN', originally published in 1999. The initial project was a collaboration between Leibovitz and the writer Susan Sontag who referred to this body of images as "a work in progress". In line with Sontag's idea, the exhibition evolved over the course of the tour as Leibovitz photographed women in each of the host cities, sublimating portraits into the exhibition. Additionally, a series of public talks hosted by Leibovitz, Gloria Steinem, Amy Richards, and others, highlighted important global and local women's rights issues. Topics included women in leadership, women in media, violence against women, women in business, women, work and economic independence, and women and social justice.
THE PRODUCTION
Tasked with the challenge to bring Leibovitz's iconic photography series to a state-of-the-art 24K video wall system, Dissident's Matthew Shattuck and Brendan Bellomo provided creative, technical, and production services required to design and execute the plan across the globe. The implementation required the development of a proprietary workflow to maintain the original gamut of Ms. Leibovitz's printed colors on customized displays in a way that married the tangible feel of her analog prints with the scale and detail of the ultra-high resolution video walls. This was done while compensating for limitations inherent within LCD technology, beta 4K video codecs, and 4k media playback. Charting into this virgin technological terrain, our mission was to technically and artistically perfect the process and output in order to meet Leibovitz's artistic expectations and standards. Included in this work was the design and fabrication of the modular steel support structure (for the monitors) that could be assembled, packed, and reassembled with ease and precision.
Over the course of twelve months across ten global cities, it was our responsibility to mange the traveling exhibition, which included international shipping (on very tight timelines), hiring local crews, sourcing local materials, installation and deinstallation services.
The exhibition was free and attended by over 175,000 people.